Home Page
The Colony at Holbrook Homeowners Association
Helpful Website Tips
Click on the Maintenance Menu at the top of this page to submit a Work Order or a Property Modification Request to the HOA online. You may also request a Work Order Form to fill out at the Reception Desk in the Clubhouse.
Click on the Property Updates Menu at the top of this page to view updated information regarding the maintenance and capital projects in the community.
Click on the Documents Menu at the top of this page to find HOA Forms, Board Meeting Minutes, HOA Financial Information, HOA Rules and Regulations and other helpful information.
Click on the Services Menu at the top of this page to find a Resident Directory, E-mail Bulletins, Community Classifieds and Forums.
Click on the Calendar Menu at the top of this page to view upcoming Social Events as well as Board Meetings and Committee Meetings.
Colony Family BBQ Blast - July 20th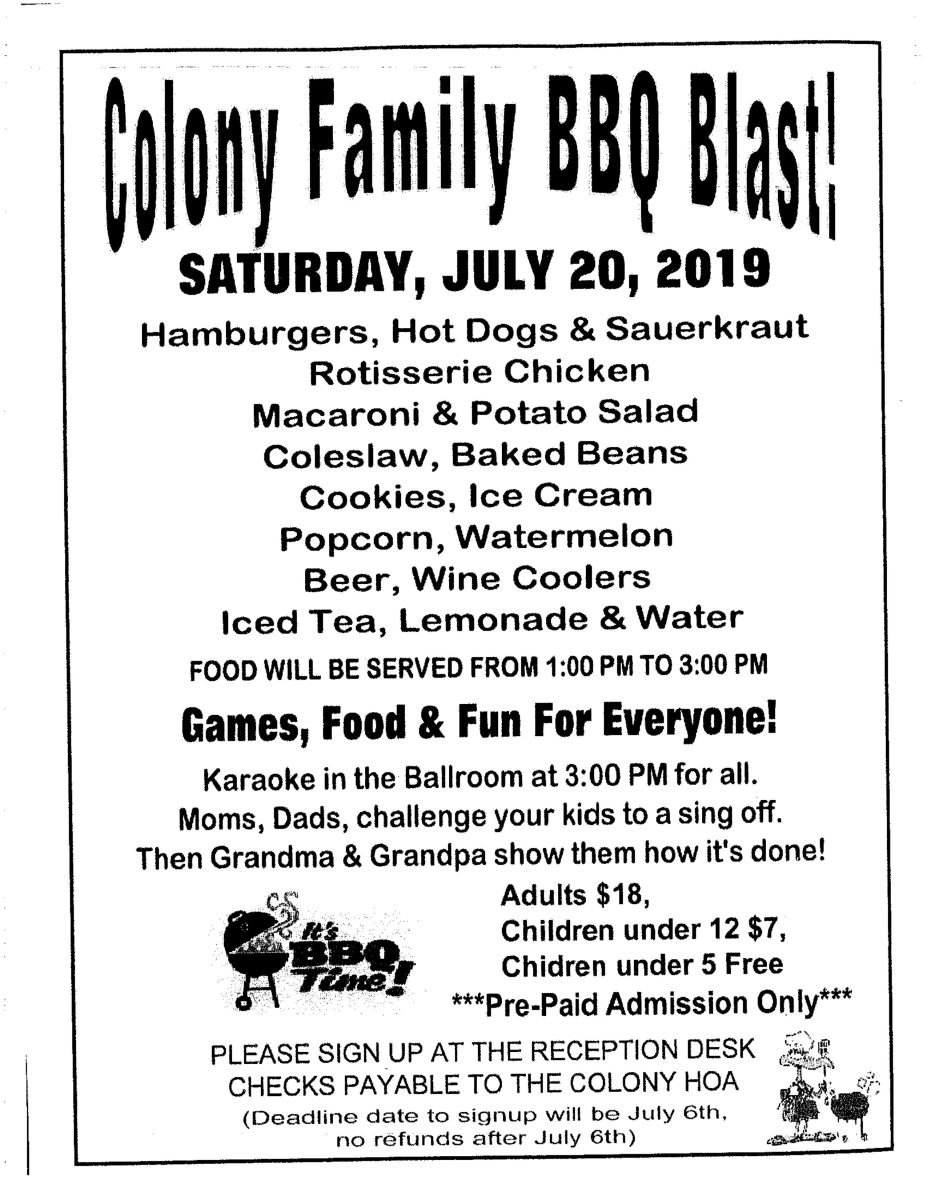 Fertilization Treatment
On Wednesday June 26th and Thursday June 27th, all grassy areas within The Colony will be spot treated for weeds. Please stay off treated areas until dry. Alternate date of Friday June 28th.
Materials used;
Horsepower Herbicide EPA# 228-313 - Click for the Material Sheets
Helix No EPA# (sticker-spreader)
Tree Trimming / Removal
The trimming of the trees is just about 60% completed.
The vendor has been contracted to trim trees away from buildings, fences, roofs and gutters, walkways, driveways, streets and street lights as well as trimming of trees at the clubhouse and facilities.
There have been several trees marked with a yellow or red tie which are being considered for removal.
Tree removal has not been scheduled yet and will most likely be scheduled for later in the summer. We will send out an email to all residents when this work is scheduled.
Playground Digging to begin Wednesday, June 5th
We will be starting the installation of our closed loop geothermal HVAC system for the clubhouse. The loop system is going to be installed beneath the playground. We will have Allied Drilling on property starting on Wednesday, June 5th.
Attached is a description of the system being installed. CLICK HERE to view
Architectural Standards of the HOA
The Architectural Review Committee (ARC) has worked diligently to create Architectural Standard Guidelines for residents seeking approval for property modification requests.
On May 1, 2019, the Board of Directors voted to approve the proposed Architectural Standards for the community. Please click on Architectural Standards of the HOA to view.
Playground Committee
We are looking for residents to assist the Board with the playground renovations.
There is a sign up sheet at the Clubhouse receptionist desk. Please sign up!
Don't kill the trees! Make sure you are mulching them the right way.
5th Precinct Community Meetings
Dumpster Use Guidelines / Bulk Disposal